Lührs is a German patronymic name that over the centuries has evolved in spelling from Luders to Lüers to Lührs. It is quite common in northern Germany, especially between the Weser and Elbe rivers. In our family, the transiton from Lüers to Lührs took place in the early 19th century. Lührs is derived from the Old German Liut-her meaning powerful warrior -- the "s" indicating "son of". In English-speaking countries, Luhrs is usually spelled without the umlaut.
Our Lührs ancestors lived in the town of Langwedel from the earliest records. In the mid-1700's one branch of that family moved to the village of Walle, now part of the city of Verden an der Aller. In the 1840's our direct Lührs ancestors also moved to Walle. In the early 20th century, relatives with the surname Lührs lived in four Walle houses. Joan's grandparents lived in house #32, which they inherited from her great-grandfather Cord-Johann Gerken. House #19 was the house and tavern known as Zum Alte Krug which was the home of her great-grandfather Hermann Hinrich Lührs. To learn more about The Krug, read the research report: A Family Business ... Zum Alte Krug. Houses #1 and #12 were owned by a distant cousins.
Our Meyer or Meier ancestors lived in the village of Nindorf, about 5 km north of Verden, during the 18th and 19th centuries. There they were small farmers.
All of these relatives were very proud of the fact that their home church was the 900-year old Verden Dom (cathedral). It was the site of most family weddings and christenings, and numerous funerals. A view of the Dom, from across the Aller river, is shown below.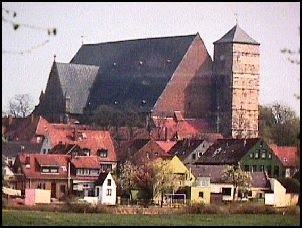 For those interested in learning about other Lührs families originating nearby, check out the
LÜHRS FAMILY ASSOCIATIONS
website ... note though that our family tree on the LFA website is not up-to-date.