This LILJE-BECKRÖGE ancestry page is a part of:
BERECZ-LUHRS Family History on the Web
Click the above link to open its HomePage in a new window/tab.
---
The LILJE-BECKRÖGE FAMILY of Natal, South Africa
The Lilje-Beckröge Family of South Africa are distant cousins of Joan Luhrs. The Rev. Johann Heinrich Christoph LILJE (1833-1920) is the patriarch of the family, coming to Natal from Germany in 1868, as a missionary to the Zulu people, after completing his studies at the Hermannsburg Seminary and being ordained in Hannover. Anna Caroline BECKRÖGE (1847-1935) went to Africa to marry him in 1871. There were ten children of this marriage.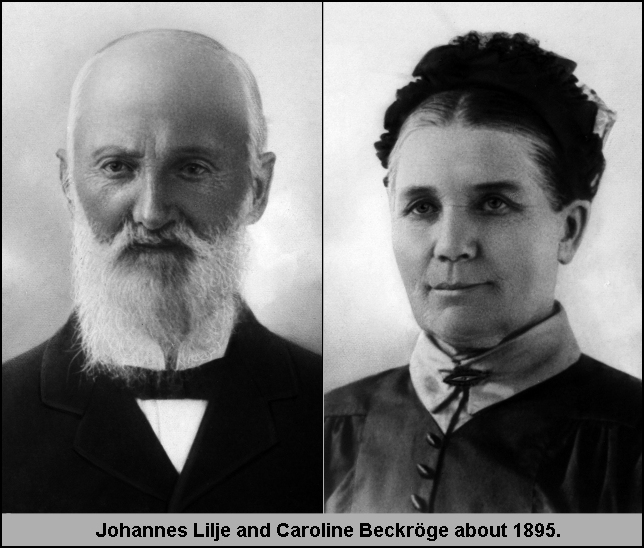 This set of pages uses an "hour-glass" approach to show three generations of the descendants of JHC Lilje and his wife, Anna Caroline Beckröge in South Africa ... as well as the known ancestors of each in northern Germany. Living descendants are "privatized." The information presented here is based largely upon the work of Rev. Dieter Reinhard Lilje and Werner Beckröge ... as well as some research performed by Margrit Meyer and this website editor. For further information about the LILJE descendants, see Rev. Lilje's 2017 e-book "Lilje -- 150 Years in South Africa." Additional information about the Lilje family in both South Africa and America may be found ...
| | |
| --- | --- |
| ... in the Research Report on: | ... or in the SpotLite™ Presentation: |
... or view one of the Photo Galleries relating to the Lilje family:
---
To contact us for more information send an e-mail to:

Vic@Berecz.us
Simply close this window (or tab) when you are done.
Subsequent pages in this LILJE-BECKRÖGE ancestry created using RootsMagic Genealogy Software
Last updated on 28 July 2018.
© 2018 by Vic Berecz and the Rev. Dieter R. Lilje. All Rights Reserved.