Ancestors of Margarete Berta GERKEN (1882-1964)


The GERKEN and LÜHRS Families of Walle House #32 in 1905.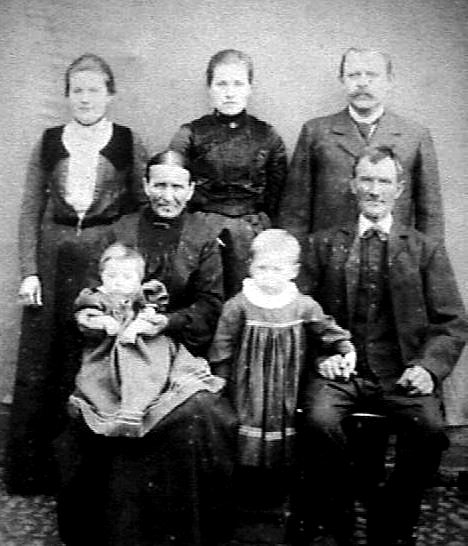 Rear: Johanne Marie Gerken, Margarete Berta Gerken and her husband Johann Hinrich Lührs.
Front: Marie Wöbse and Cord-Johann Gerken with grandsons Henry and John Luhrs.
GERKEN -- Our Gerken ancestors have lived in the village of Walle, just to the northeast of Verden an der Aller, Germany, since at least the early 17th century. They were primarily small farmers there. This part of our family tree encompasses virtually the entire population of Walle ... rich and poor, farmers, shopkeepers, and teachers. On some lines we have gone back to the Thirty Years War of the early 1600's. No records exist in the area from an earlier time. WÖBSE -- Our Wöbse ancestors also were small farmers in Völkersen and other villages to the north of Verden.


---
A RELATIONSHIP BETWEEN JOAN'S PARENTS
Over the years, there were many marriages between Joan's paternal Lührs and Gerken ancestors who all lived in the Verden area, and likewise between her maternal Brüning and Rotermund ancestors who all lived on the moor northeast of Bremen. But, we never anticipated finding a link between the paternal and maternal sides of her family ... but, a few years ago, we found such a connection. We thank a distant Beckröge cousin for making the detailed facts available to us.
Buried deep in the recesses of her Gerken ancestors are a set of 6xGreat-Grandparents named Johann Dieterich Beckröge and Maria Bischoff (born: Bassen 1716) living in Walle. Deep in the recesses of her Rotermund ancestors are her 5xGreat-Grandparents Arend Mindermann and Marie Bischoff (born: Bassen 1742) living in Dannenberg on the moor. It turns out that Marie is the niece of Maria. Their grandparents/parents are the same couple: Lüder Bischoff (1667-1733) and Maria Block (1679-1750) of Bassen (near Achim). This means that Joan's parents were sixth cousins -- unfortunately, they never knew it because we learned of this only after both of their deaths. Therefore, in this website, Maria Bischoff (b 1716) and her ancestors are found in both the Gerken and Rotermund ancestries.
TABLE OF CONTENTS
Navigate through the Ancestors of Margarete Berta Gerken
Names - Index of persons found in this ancestry
Sources - Numbered source references in this ancestry
Simply close this window (or tab) when you are done.
---
Subsequent pages in this GERKEN ancestry created using RootsMagic Genealogy Software
This GERKEN ancestry last updated on 18 Dec 2011.
© 2011 by Victor G. Berecz, Jr. All Rights Reserved.